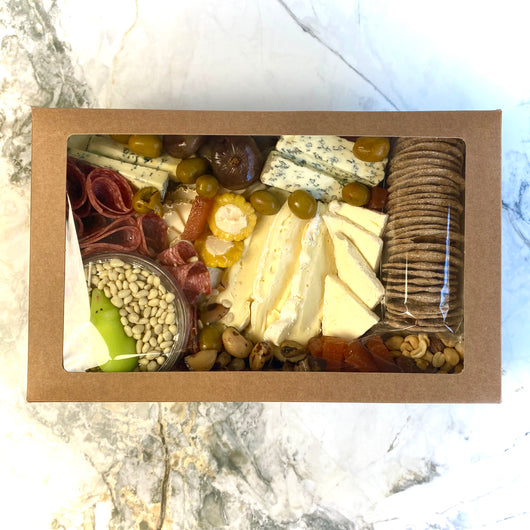 Bigger Sharing Platter Box | Gift Platter North Wales | Cheese Platter
Regular price £34.99 GBP Sale
Pre-order yours now - 24hrs notice
(FYI we don't make platters between 19th-24th December every year, but we make lovely hampers)
Serves 3 to 4
Description: This box is a bit like opening a box of chocolates and we change the contents daily so you get something different every time you order.
There is a variety of things to nibble on like various cheese, olives, salami, anti pasta, crackers and snacks.
They make a lovely gift for visiting friends, someone special or a weekend treat for a night in. 
Choose from the drop down menu which day you would like the collection for.  
!! Remember to write in the notes if you have food allergies or don't like olives, goats cheese, blue cheese and we will make sure not to put these in. 
We can't post this but can deliver locally 
**Not available during the busy Christmas period. We do make lovely hampers instead though**