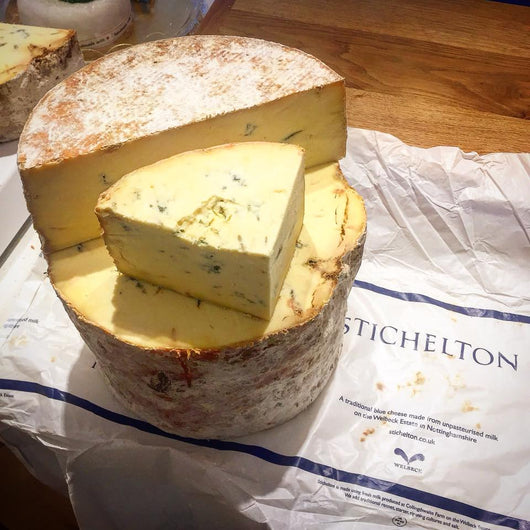 Stichelton Unpasteurised British Blue Cheese
Regular price £8.76 GBP Sale
COMING SOON FOR CHRISTMAS - PRE ORDER NOW
Stichelton is a delightful and unique creation that captures the essence of traditional English blue cheese. We stock this cheese during the Christmas season.
We recommend making a pre-order booking to secure your delivery or collection. Stichelton will be available after 13th December 2023

Crafted through a partnership led by Randolph Hodgson, the visionary behind Neal's Yard Dairy, and Joe Schneider, a skilled American cheesemaker with international experience, Stichelton is a masterpiece born out of a shared passion for creating an unpasteurised cheese akin to the classic British style blue, but with it's own distinct identity.

While Stichelton derives its name from the historical reference to the village of Stilton, with 'Stichelton' appearing in 13th-century Lincoln Rolls. This cheese carries the spirit of tradition into the present day.

Indulge in the spirit of Christmas with Stichelton cheese, a robust and captivating.
Recommended with a nice glass of Port
Cows Milk, Traditional Rennet, Unpasteurised