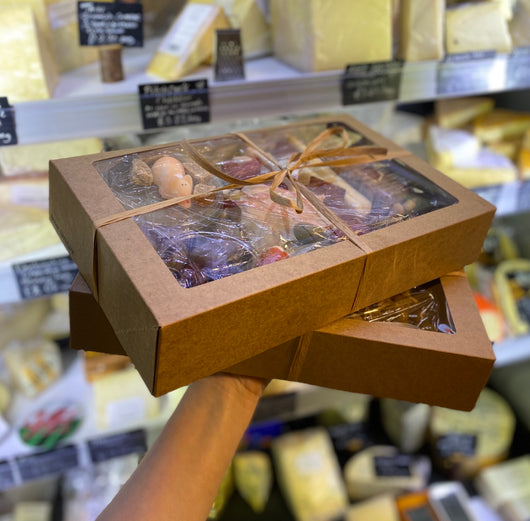 Sharing Platters | Vegetarian Platter
Regular price £27.99 GBP Sale
You can pre-order yours now - 24hrs notice
Our vegetarian sharing platters are mini works of art presented in a kraft window box and tied up with a bow..
Each box is a suprise to let you try something new each time. 
We select lots of different yummy things and slice them all up ready to share.
We can't tell you what will be in this box becuase it's a suprise! We can change anything you may not like for instance if your not a lover of olives or goats cheese just let us know in the notes section of your order.
We make each box fresh to order and they take a little time to make so if you could order or tell us at least 24 hours before we would be very greatful.
Choose from the drop down menu which day you would like the collection for. Remember to write in the notes if you don't like olives, goats cheese, blue cheese and we will make sure not to put these in.
We can't post this i'm afraid but can deliver locally. We've teamed up with a local taxi service to offer more deliveries. We also do regular collection points contact us for more information. We can post a selection of cheese to you, contact us for more information.
**Not available during busy Christmas time, but our lovely hampers are***