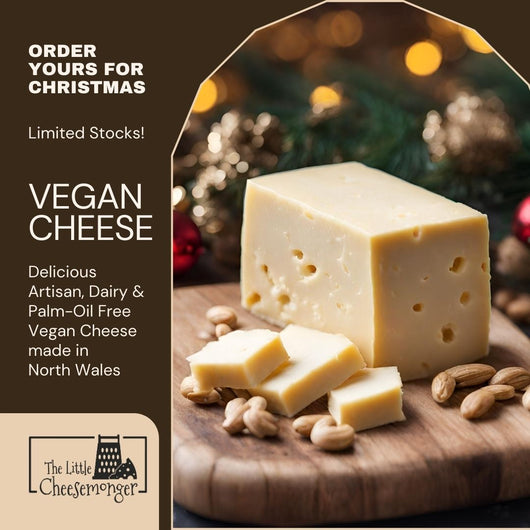 Vegan Cheese 200g | Artisan, Dairy & Palm-Oil Free Vegan Cheese made in North Wales
Regular price £6.99 GBP Sale
Our Cashew-based Vegan Cheeses are meticulously handcrafted in the heart of North Wales by a passionate small vegan business.

Arriving in our shop in mid-December, just in time to elevate your Christmas cheese board to new heights. And the beauty of it all? They freeze magnificently, ensuring you're well-prepared for the New Year's celebrations.

They contain no artificial preservatives, so you can relish them with confidence.

Secure your order for collection or delivery come mid-December 2023. We have a limited stock available, so don't miss out on the chance to order.

What's truly remarkable about our Cashew-based Vegan Cheeses is their universal appeal. Even if you're not a vegan, these artisan delights are the perfect companion for your crackers, elevating any cheese platter.

Dive into a world of tantalizing flavors:

1. Smokin: Savor the smoky richness that will tantalise your taste buds.
2. Welsh Wonder: Discover the wonder of Welsh-inspired flavours,
3. Garlic and Herb: A symphony of garlic and herb.
4. Whole Grain Mustard: Experience the boldness of whole grain mustard in every bite.
5. Pear and Ginger: A harmonious blend of sweet pear and zesty ginger for a unique taste.
6. Creamy Cranberry:*Creamy goodness meets the tangy allure of cranberries for a delightful fusion.
7. No Moo (Original):For the purists, our original creation promises classic goodness without compromise.