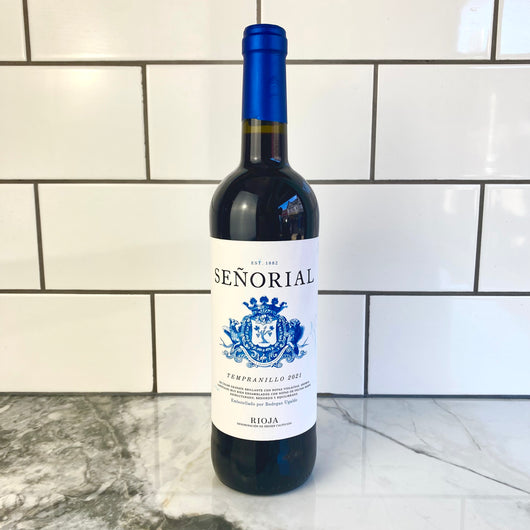 Senorial Tempranillo Tinto | Rioja DOC | Spain | Red Wine
Regular price £9.50 GBP Sale
Senorial Tempranillo Tinto  Rioja DOC

Looking for a great value Rioja wine that embodies the vibrant Spanish culture? Senorial Rioja Joven, a young Spanish red wine, is your perfect choice.
This Rioja DOC wine has a dark ruby color and offers enticing aromas of red fruit, a hint of smoke, and oak. The medium-bodied wine has a balanced acidity that complements its delicious fruit notes perfectly, while chewy tannins make it an excellent partner to lamb chops, tapas, or our famous Manchego cheese!
At 13% ABV, this wine is an excellent choice for those who want to enjoy a Spanish wine that is not too strong. Being a joven wine, there are no rules about the length of time it has been aged in oak, making it a great option for those who prefer a wine that is not too oaky. With its distinctive taste and aromas, Senorial Rioja Joven is a must-try for any wine lover looking for a unique Spanish wine experience.

The Tempranillo grape is crucial to Rioja wine production as it is the primary grape variety used in the region. It has thick skins, high acidity, and moderate tannins, providing structure and aging potential. It is often blended with other grapes to create complex wines, and its ability to express the terroir of the region makes it crucial in creating the unique character and flavor profile of Rioja wine. Its adaptability to different growing conditions means it can produce a range of wine styles, making it a backbone of the region's winemaking industry.
Note: Our wine seletions is vast but stocked in modest quantities and replenished weekly. As such we may need prior notices for larger orders.