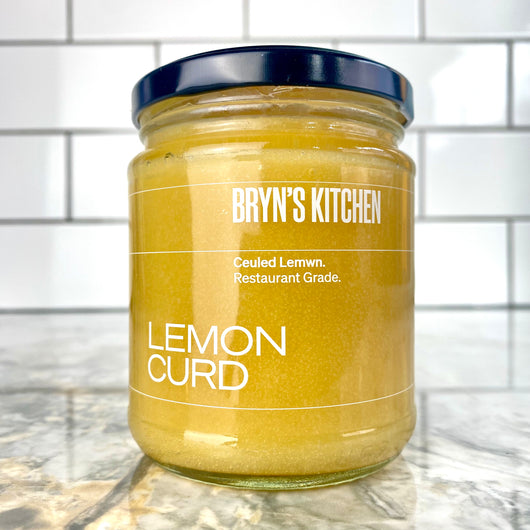 Bryn's Kitchen - Chef Bryn Williams Lemon Curd 311g
Regular price £5.15 GBP Sale
Bryn's Kitchen Lemon Curd 311g

Welsh Chef Bryn Williams is originally a local from nearby Denbigh now renowned Chef with three restaurants (Odette's in London, Porth Eirias in Colwyn Bay and Bryn Williams and The Cambrian in Switzerland).
He also has published three books and regularly appears on TV.
I popped over to his restaurant over looking the sea in Colwyn Bay to take a look his new range called Bryn's Kitchen.
If you've had a meal in Bryn's restaurant then it's likely you've had the jam from the afternoon tea or the chutney from the cheeseboard. 
Bryn often got asked if some could be potted up to take home which inspired him to launch this range.
We are currently awaiting the Honey but we are stocking the Raspberry & Lime Jam, Lemon Curd and Pear Chuntey.
They are a fantastic addition to our increasingly popular gift hampers but can also be ordered individually and sent via post making wonderful gifts.
Check out our delivery page for more information