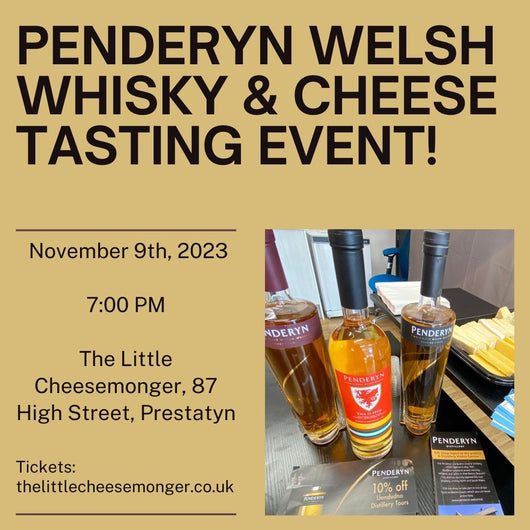 Penderyn Welsh Whisky & Cheese Tasting: 9th Nov 2023 - 7pm - Prestatyn
Regular price £27.99 GBP Sale
Penderyn Welsh Whisky Distillery & The Little Cheesemonger Tasting Event!
🥃🧀 Experience a Fusion of Flavors 🧀🥃

Join us for an unforgettable evening as we embark on a journey of taste and tradition, where Welsh Whisky meets artisanal cheese at The Little Cheesemonger.

📅 Date: November 9th, 2023
⏰ Time: 7:00 PM
📍 Location: The Little Cheesemonger, 87 High Street, Prestayn

🥃 Penderyn Welsh Whisky 🥃
Indulge in the exquisite world of Penderyn, a single malt whisky with a Protected Geographical Indication (PGI). Led by none other than Richard, Penderyn's Brand Ambassador, and Gemma from The Little Cheesemonger, you'll embark on a captivating tasting journey through a range of Penderyn expressions. Discover the nuances of flavor and aroma that make each sip a truly remarkable experience.

🧀 The Little Cheesemonger 🧀
How to pair these exceptional whiskies with an array of carefully selected artisanal cheese. The fusion of these distinct flavors will ignite your senses and leave you with a newfound appreciation for the art of whisky and cheese pairing.

🎟️ Limited Seats Available 🎟️
Please note that seats for this exclusive event are limited. To attend, you must be 18 years or older, and ID may be required upon entry.

🍽️ Dietary Requirements 🍽️
Your comfort and enjoyment are important to us. If you have any dietary requirements, kindly inform us in the notes section when making your booking. We'll do our best to accommodate your needs and ensure you have a delightful experience.

🎫 Ticket Information 🎫
Before booking your tickets, please double-check your availability, as tickets are non-refundable. However, we understand that plans can change. If you wish to transfer your ticket to someone else, simply let us know, and we'll be happy to assist with the name change.

🥂🧀🥃