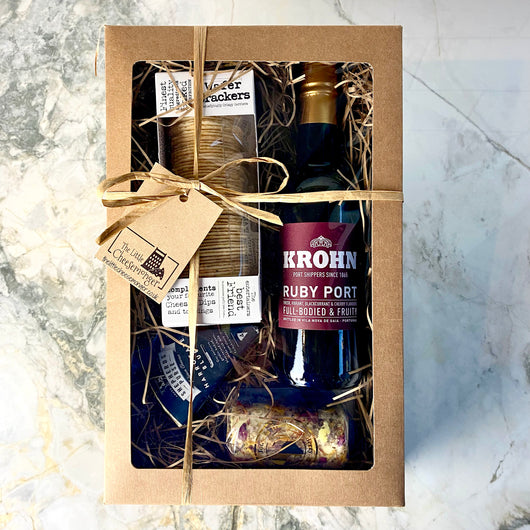 Port & Cheese Gift Gift Box | Christmas Gift
Regular price £26.99 GBP Sale
Christmas Port & Cheese Gift Box
Krohn Ruby Port is made from wines aged for three years in large wooden vats. Fresh, intense fruity character & their deep ruby colour.
This style is most suited for the classic port and cheese combination.
It is particularly good with blue-veined and richly flavoured soft cheeses which we've matched together in this Port and Cheese Gift Set

Gift Box Contains: 
1 x Krohn Ruby Port 37.5 cl
2 x Cheese
1 x Crackers
Order early for Christmas
We post out on Mon/ Tues / Wed / Thurs next day delivery.
This product contains alcohol. You have confirmed to be over 18 years old, but can still be asked to show ID on delivery.
For deliveries please don't use the fast pay button (PayPal) until you have competed the delivery section.