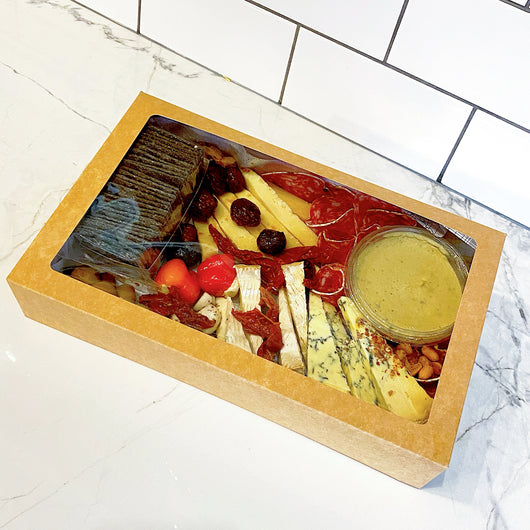 Sharing Platter Box | Gift Platter North Wales | Cheese Platter
Regular price £27.99 GBP Sale
Our Sharing Platter Box makes a great Gift Platter

**Serves 2 - Perfect for Sharing, or for a group as nibbles**

Inside, you'll find an assortment of artisan treats, including a medley of fine cheeses, sliced salami, and delectable antipasto items like stuffed bell peppers, grilled garlic, Borettane onions or olives.  We also include artisan crackers and a dip to elevate your grazing experience.

It's a fantastic gift idea for your visiting friends, that special someone, or a weekend indulgence for a cozy night in.

Where possible please give us 24 hours notice in advance, as each box is carefully crafted for your enjoyment.

Select your preferred collection day from the drop-down menu, and don't forget to let us know if you have any food allergies or preferences.
We're here to cater to your tastes, so feel free to inform us if you'd like to exclude olives, goat cheese, or blue cheese. Additionally, please specify your chosen pickup location from our list of shops.

Treat yourself to a daily surprise of gourmet delights with our Daily Delights Box – your taste buds will thank you!
During the Christmas weeks, we temporarily suspend the production of our sharing platters.
This decision is prompted by our limited availability of hours at Christmas, as we are always fully booked with crafting our extraordinary gift boxes, hampers, and cheese selections.
These items offer the added advantage of an extended shelf life compared to sharing platters, which are best enjoyed within a couple of days after collection.
We can't post this i'm afraid but can deliver locally. We've teamed up with a local taxi service to offer more deliveries. We also do regular collection points contact us for more information. We can post a selection of cheese to you, contact us for more information.
**Not available during the busy Christmas period. We do make lovely hampers instead though**