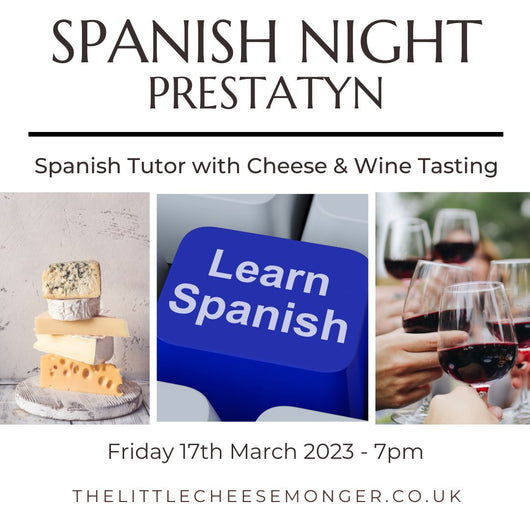 Spanish Night - Prestatyn - Friday 17th March 2023 - 7pm
Regular price £26.99 GBP Sale
--FULLY BOOKED--
Experience an enjoyable and informal evening devoted to the Spanish language and cuisine.
With a professional Spanish tutor, this tasting session will equip guests with the knowledge to navigate some handy Spanish phrases. Additionally, a guided sampling of Spanish wines, cheeses, meats which will allow participants to further appreciate the local cuisine.
No skill level is required, this event is the ideal way to spend a delightful Friday evening in Prestatyn. With a wide array of Spanish flavors, let us take you on a delicious culinary journey.
Starting at 7pm (lasting approximately 1.5 hrs)
*Please tell us of any food allergies before the event.
*You must be 18 to attend this event
Location: The Little Cheesemonger 87 High Street Prestatyn
(Opposite Clwyd Bakeries) 01745 852954
There are 2 steps to access the back of the shop area for the tasting.
Parking located at the Medical center off the High Street at Nant Hall Road.
***Please check your availability carefully before booking as tickets are
non refundable
but you are welcome to change ticket holders names, please let us know***