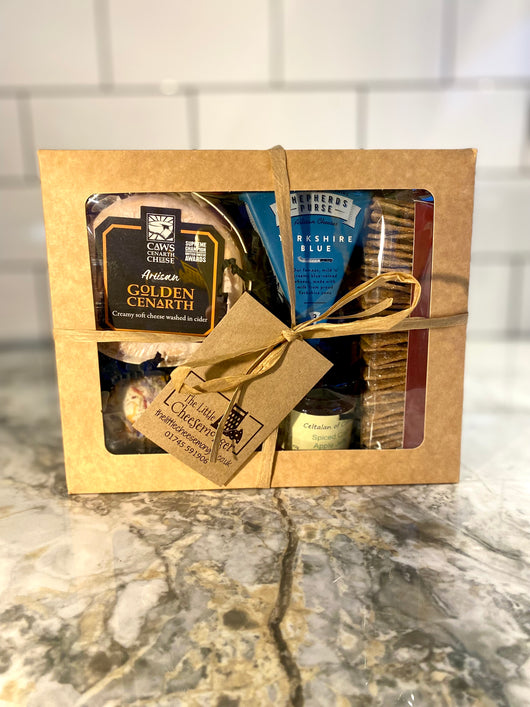 Vegetarian Cheese Gift Box | Vegetarain Cheese Selection MEDIUM | Cheese Box Delivery
Regular price £23.99 GBP Sale
Vegetarain Artisan Cheese Gift Box with Medium Cheese Selection
Gift the indulgence of fine cheese with our Artisan Cheese Gift Box. This gourmet cheese gift is the perfect choice for cheese lovers. Offering a variety of interesting cheeses flavors & textures, our expertly curated cheese selection creates an ideal cheese gift set for Birthdays, Thank you gifts and especially Christmas Gifts. Why not write a message to add to the gift (in the cart section notes)

Whats inside: 3 Artisan Cheese,  a pack of crackers and a portion of local preserve, perfectly paired to complement your chosen cheeses. Designed to serve 3 to 4 people, this gift box is ideal for sharing.
With convenient UK delivery, it's an excellent option for sending cheese gifts by post.
Wether you were looking to send a cheese board by post each cheese box features the option to change and customise your cheese selection based on your preferences using the convenient drop-down menu.
Our Vegetarain Artisan Cheese Gift Box with Medium Cheese Selection ensures high quality cheese gift without Vegetarian cheese hamper prices.
Remember to refrigerate upon arrival.
For any allergies, please notify us when placing your order, including any sensitivities to DAIRY, WHEAT & GLUTEN & NUTS. Feel free to contact us if you require assistance.
For delivery information, please refer to the home page menu.
Important:
During the checkout process in the CART SECTION, kindly leave us any necessary notes about your order. If you are planning ahead, you can also select a specific delivery date. Our courier collects packages every Monday to Thursday, ensuring prompt and reliable delivery.