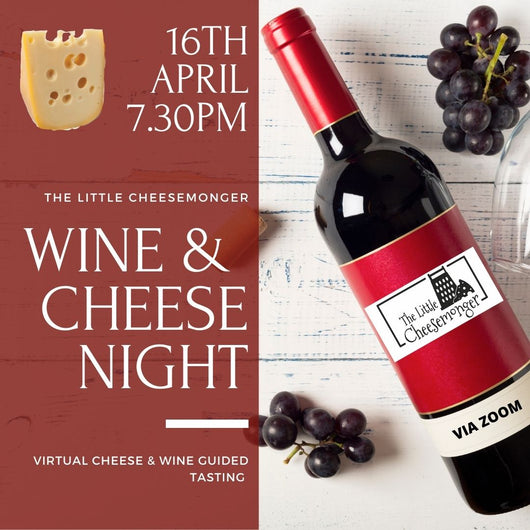 Virtual Guided Cheese & Wine Tasting | FRI 16th April 7:30pm
Regular price £23.00 GBP Sale
Join us for our Virtual Guided Cheese & Wine tasting on Friday 16th April at 7:30pm.
You'll learn more about wine and how to pair with cheese on this easygoing fun event with your hosts Gemma & Chris.
How this works:
Choose from one of the sizes in the options. 
Choose to collect from one of our shops or have it delivered anywhere in mainland UK.
Your cheese & wine kit will be ready shortly before the event.
Our guided tasting will include:
Singles: 3 tasting samples of cheese & 3 x 50ml tasting bottles of wine. 

Couples : 3 x cheese samples 2 x 250ml bottles of wine and 1 x 100ml of our surprise wine. 
You will need a good internet connection and the ability to use Zoom. If you are unsure we are happy to do a trial test run with you to get you confident.
IMPORTANT please make sure you have a copy of the link ready at least a few hours before as once we start we won't be responding to messages. 
Book your ticket to reserve your space on Zoom. As we guide you through the tastings you'll be able to ask us questions. 
Please make sure to leave us your email address and tell us which shop you'd like to collect from in the notes section of your order if you're planning to do so.
Look forward to seeing you soon!