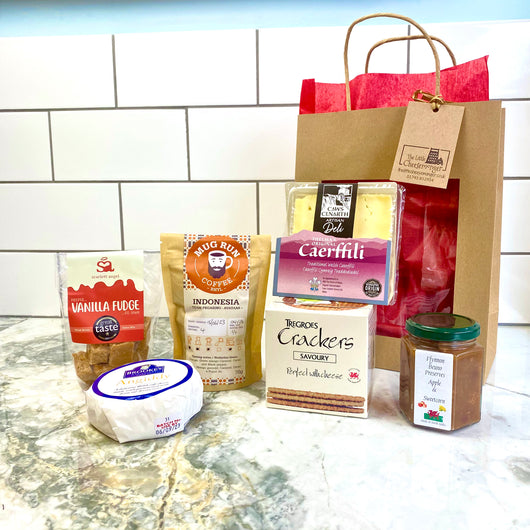 Welsh Delight Gift Bag | The Perfect Welsh Cheese Gift Bag
Regular price £30.99 GBP Sale
Give a thoughtful Gift: Impress your loved ones with an Artisan gift that showcases the finest Welsh flavours. 

Supporting Small Producers: Enjoy artisanal, locally made products while supporting small Welsh producers.

Angiddy Cheese (Pasturised Vegetarian Soft Cheese):**
Buttery and indulgent, Angiddy cheese adds a touch of sophistication to any cheese board. Perfect for those who appreciate the buttery things in life.

Thelma's(Pasturised Vegetarian Cheese):**
Thelma's Wedge is a zesty and crumbly Welsh Caerphilly cheese that's simply irresistible and makes divine cheese on toast


Welsh Fudge
Our locally handmade Welsh Fudge is a sweet sensation.

Mug Run Coffee:
Mug Run Coffee a local hand roasted coffee in small fresh batches.

Welsh Savory Biscuits:
Traditional Welsh Savory Biscuits offer a satisfying crunch.
The perfect accompaniment to elevate your cheese tasting experience.

Locally Made Welsh Chutney (Small Producer):
Our locally sourced Welsh chutney is a testament to artisanal craftsmanship.
Elevates your cheese and biscuit pairing with its unique blend of flavors.

Even if some of these artisan items are out of stock we guarantee a delicious replacement.

This Welsh Delight Gift Bag is more than just treats; it's a piece of Wales delivered straight to your doorstep. Give the gift of authentic Welsh flavors today.