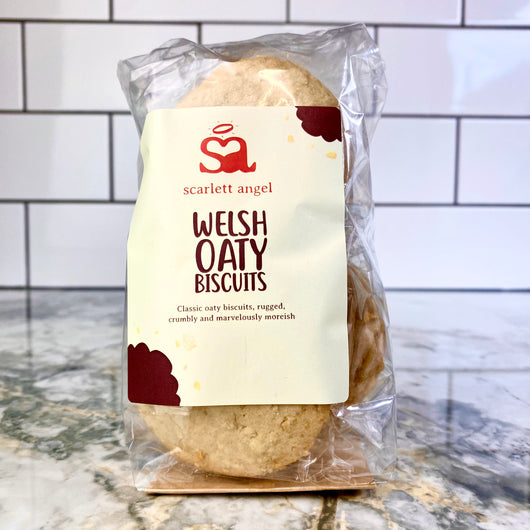 Welsh Oaty Biscuits 165g
Regular price £3.10 GBP Sale
🍪 Introducing our mouthwatering Welsh Oaty biscuits! 🍪
Made by a small family-run business in Pwhelli North-West Wales. 
Savor the mouthwatering flavors of Welsh heritage.
Now you can enjoy the authentic flavors of traditional Welsh biscuits and you'll be transported to the rolling hills and cozy kitchens of Wales.
But that's not all—we also offer a range of irresistible Welsh biscuits that will tantalise your taste buds. Made with wholesome oats and a touch of Welsh magic, these treats provide a satisfying crunch and a subtle hint of sweetness. Perfect for a quick snack, a delightful accompaniment to tea, or as a special treat for yourself or your loved ones.
Whether you're a fan of Welsh heritage, a biscuit connoisseur, or simply someone who appreciates a scrumptious snack, we take pride in bringing you the finest quality Welsh treats. Check out our Welsh Cake Biscuits too.

Immerse yourself in the flavors of Wales with our Welsh biscuits. Shop now for an extraordinary Welsh snacking experience.
We also have Fresh Bara Brith