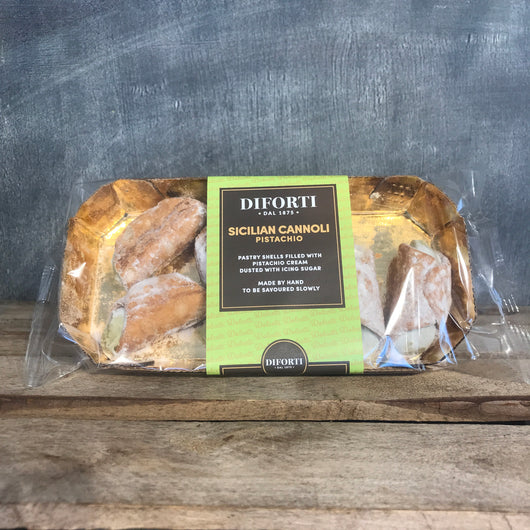 Diforti Sicilian Cannoli & Pistachio Cream 150g
Regular price £3.45 GBP Sale
Treat your family and friends – or simply yourself – to the superstar of Sicilian desserts. Each and every one of our cannoli are handmade and rolled with care into their distinct tube shape, before being fried and subsequently filled with our delectable Sicilian pistachio cream. As a special finishing touch, we add a dusting of icing sugar.
This authentic Italian food delicacy is best enjoyed alongside a hot cup of tea or your favourite variety of coffee, and is guaranteed to fill you with instant happiness.
PASTRY: WHEAT Flour, Palm Oil, Sugar, Fructose, Honey, Salt, Egg White Powder, Butter (MILK), Dried Yeast, Flavourings.
PISTACHIO FILLING CREAM: Sugar, Vegetable Oils (Sunflower, Palm), Skimmed MILK Powder, Whey MILK Powder, Lactose (MILK), Pistachio Nuts (4%), Glucose Syrup, Glycerol, Emulsifier: SOYA Lecithin, Flavourings, Thickener (E415), Preserva- tive (E202).
Decoration: Dextrose, WHEAT Starch, Vegetable Fats (Palm, Coconut), Vanillin.